Rishikesh Plant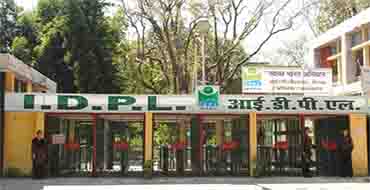 Contact Person Name :

Shri Sanjay Kumar

Designation :

General Manager, Additional Charge

Address :

Virbhadra, Rishikesh-249202 (Uttarakhand)

Telephone :

0135-2450175, 9868327477

Fax No. :

0135-2450176

E-mail :

s.kumaridpl@gmail.comm
Rishikesh plant is located on the Haridwar-Joshimath highway on the periphery of Rishikesh Municipality in Uttarakhand State in the serenity of Mountainous landscape on the bank of holy river Ganges. Rishikesh Township comprising Plant & Colony is spread over a vast 834 acres of land (3.38 million sq. mts) and is well connected with road, rail and air.
The scenario offers greenery, climes and non- polluted air. The plant was commissioned in 1967 and had largest antibiotics fermentation facility with 44 nos. of Fermentors (50m3 capacity each) for penicillin-G, Tetracycline, Oxytetracycline and Streptomycin etc. and their purification facilities.
Presently only formulation manufacturing facilities are in operation, and nearly 50 Formulations of wide therapeutic range are being produced. The unit is revised Sch. M compliant, 2 out of 4 sections viz. General Tablets section and Non B lactum capsule sections have been declared " WHO : GMP Compliant ". COPPs have been obtained for 4 products and another 5 COPPs are under process.
It has large production capacity for manufacturing of Formulations like tablets (765 million nos. / per annum ) and capsules both Beta & Non Beta lectum (390 million nos. per annum)
It is endowed with the capacity to manufacture Oral Contraceptive and Emergency Pills ( OCPs & ECPs ) and is one of the five regular suppliers of these pills to Ministry of Heath & Family Welfare, Government of India.
The production facilities are fully supported by well equipped Quality Control Department with Good Laboratory Practices, apart from Formulation Development Research Laboratory (FDRL).
The plant has a modern Biological Treatment Plant (BTP) with 14000 cum / day treating capacity, which is a significant and measurable contribution towards development of clean technologies and innovative solutions for the Environmental problems. Rishikesh plant has received the National Award for prevention of pollution -1992 from the President of India on 6 August, 1994.
IDPL Rishikesh is having a vast township with 2700 Quarters. Besides, there are good no. of shops / shopping centres , one Intermediate college, one kendriya Vidyalaya, one Post Office / Police station, play grounds and a Community Centre.